Raspberry Caipiroska
Raspberry Caipiroska
Simple to make, zesty and delicious, the Raspberry Caipiroska is a twist on the classic Brazilian cocktail, the Caipirinha, with ripe fresh fruit pressed together with a dash of sugar to create the ideal summer sport serve.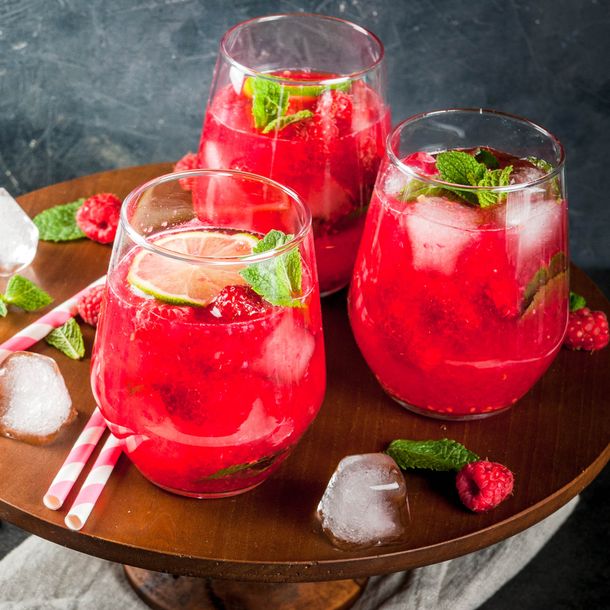 Ingredients
40mlVodka

4wedge(s)Lime

5piece(s)Raspberries

1tbsp Brown Sugar

12mlSugar Syrup
1.5 units of alcohol per serve
Equipment
1 x Spoon

1 x Knife

1 x Jigger

1 x Crushed ice

1 x Chopping board
Method
Pour

Using a sharp knife and a chopping board, cut a lime into quarters.

Place 4 lime wedges, 5 raspberries and a tablespoon of brown sugar in a tumbler.

Using a jigger, measure 12.5ml sugar syrup into the tumbler.

Muddle

Press down on the contents of the glass using a muddler to extract juices and flavour.

Mix

Top with crushed ice and, using a jigger, measure 40ml vodka into the glass.

Using a bar spoon, stir the mixture until the ingredients are well combined. Top with more crushed ice.

Grab a bite

Get some grub in before or while you're drinking – it slows alcohol absorption.

Drinks Calculator
vodka

lime

raspberries

sugar syrup

brown sugar

raspberry
When you're throwing a housewarming party, celebrating an anniversary or birthday, or just having a regular weekend gathering, you'll want drinks that are easy to make but tasty. Try simple twists on the classic serves or make a simple cocktail using our amazing recipes that help you make great cocktails for every single occasion.
You can try a variety of our large selection of our suggested cocktail recipes for your parties as well. These cocktails recipes are fit for any beginner mixing cocktails for the first time and you can buy all the ingredients here. Also, give our advanced cocktail recipes a try to get your party kick started. Some of the recipes we recommend are our spiced mojito and our captain morgan mojito. These are easy to make and are great for every occasion.
We also recommend that you can try out our other cocktail recipes on our website.