Merry Mule
Merry Mule
Kick your party into action with this fine Merry Mule cocktail recipe. It's the right way to spice up your Christmas party – a combination of tasty Ginger Ale and vodka that will have guests galloping over to celebrate.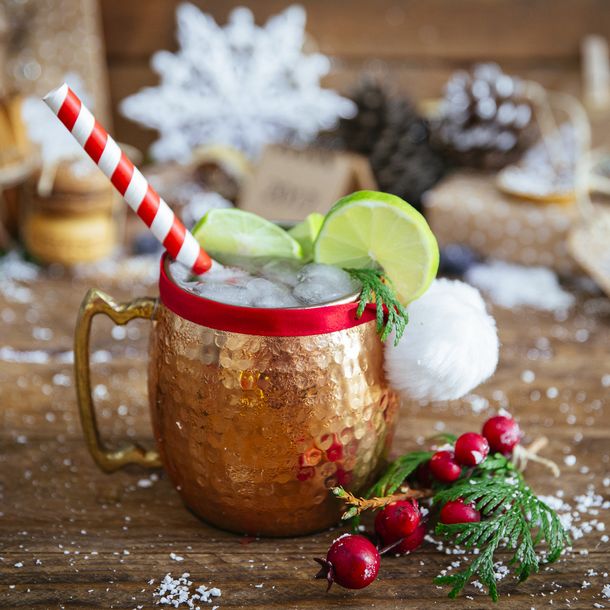 Ingredients
50mlVodka

140mlGinger Ale

10mlLime Juice

1piece(s)Cinnamon Stick

1wedge(s)Lemon

5piece(s)Cloves
1.8 units of alcohol per serve
Equipment
1 x Highball glass

1 x Chopping Board

1 x Ice

1 x Knife
Method
Ice

Fill a mug or highball glass with ice cubes.

Pour

Add 50mlVodka to the glass. Add lime juice and Ginger Ale. Add in 10ml lime juice.Top up with 140ml Ginger Ale, or enough to fill the glass.

Garnish

Cut a slice of lemon and push 5 cloves into the slice. Place on top of the drink to garnish. Add 1 stick of cinnamon and use to stir the drink.

PRO: Add a teaspoon of ginger syrup to super spice your mule!

Grab a bite

Get some grub in before or while you're drinking – it slows alcohol absorption.

Drinks Calculator
vodka

ginger ale

lime juice

cinnamon stick

lemon

cloves

ginger

spicy

easy cocktails

dinner parties

cocktail parties

nights in

house parties

smirnoff no.21 vodka

schweppes ginger beer

ginger syrup

christmas parties

christmas cocktails
When you're throwing a housewarming party, celebrating an anniversary or birthday, or just having a regular weekend gathering, you'll want drinks that are easy to make but tasty. Try simple twists on the classic serves or make a simple cocktail using our amazing recipes that help you make great cocktails for every single occasion.
You can try a variety of our large selection of our suggested cocktail recipes for your parties as well. These cocktails recipes are fit for any beginner mixing cocktails for the first time and you can buy all the ingredients here. Also, give our advanced cocktail recipes a try to get your party kick started. Some of the recipes we recommend are our spiced mojito and our captain morgan mojito. These are easy to make and are great for every occasion.
We also recommend that you can try out our other cocktail recipes on our website.