Medium
|
https://www.thebar.com/en-gb/recipes/blackberry-shrub-cocktail
Blackberry Shrub Cocktail
Gordon's Blackberry Shrub cocktail.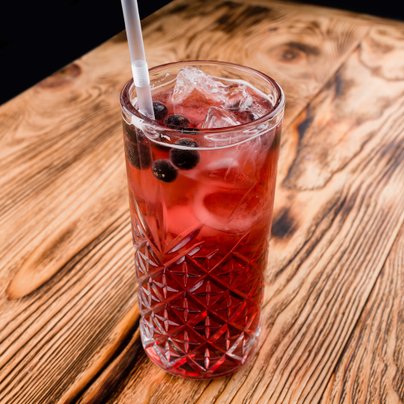 Ingredients
100mlLondon Dry Gin

500gBlackberries

1tsp Lavender

265grCaster Sugar

200mlRaw Apple Cider Vinegar

75mlTonic Water

4pieceBlackberries

1sprigLavender
2 units of alcohol per serve
Equipment
1 x Cocktail Shaker

1 x Ice

1 x Saucepan

1 x Shaker

1 x Sieve
Method
Pour

Gently wash the blackberries and place into a large clean jar and add the caster sugar and lavender. Secure a muslin square/cover over the opening of the jar. Place into the fridge and gently rock/shake daily for about 2-3 days until the sugar has dissolved.

Once the fruit has macerated for a few days place in a pan with the vinegar and gently bring to a very light simmer on a med/low heat for about 5 minutes, softening the fruit. Cool the mixture to room temperature then strain through sieve into a jug, pushing it through with the back of a spoon. Sieve the collected liquid again, this time using a piece of muslin over the sieve, to get a finer shrub. Pour 100ml of shrub into a bottle, seal, label and store in the fridge. Keeps in the fridge for up to 4 months.

Mix

In a shaker add the gin, blackberry & lavender shrub, lemon juice and ice. Shake for at least 1 minute. Strain into 2 tall tumbler glasses filled with ice and top with tonic water.

Garnish

Garnish with blackberries and a sprig of lavender.

Grab a bite

Get some grub in before or while you're drinking – it slows alcohol absorption.

Drinks Calculator
Blackberry Shrub Cocktail
Blackberry Shrub Cocktail
Gordon's Blackberry Shrub cocktail.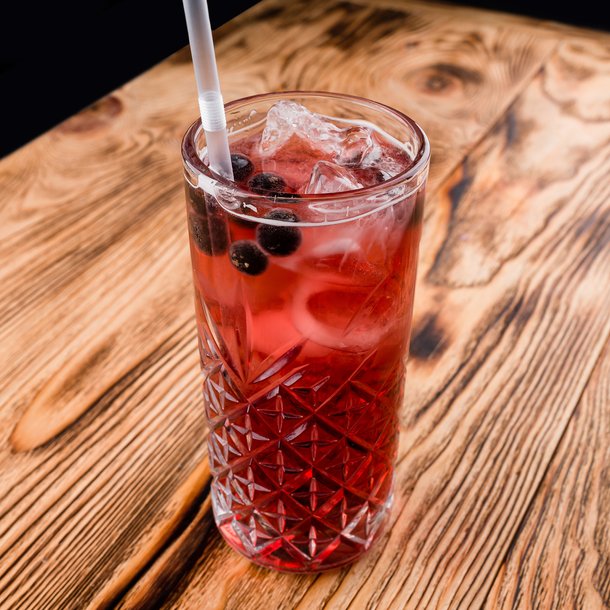 Ingredients
100mlLondon Dry Gin

500gBlackberries

1tsp Lavender

265grCaster Sugar

200mlRaw Apple Cider Vinegar

75mlTonic Water

4pieceBlackberries

1sprigLavender
2 units of alcohol per serve
Equipment
1 x Cocktail Shaker

1 x Ice

1 x Saucepan

1 x Shaker

1 x Sieve
Method
Pour

Gently wash the blackberries and place into a large clean jar and add the caster sugar and lavender. Secure a muslin square/cover over the opening of the jar. Place into the fridge and gently rock/shake daily for about 2-3 days until the sugar has dissolved.

Once the fruit has macerated for a few days place in a pan with the vinegar and gently bring to a very light simmer on a med/low heat for about 5 minutes, softening the fruit. Cool the mixture to room temperature then strain through sieve into a jug, pushing it through with the back of a spoon. Sieve the collected liquid again, this time using a piece of muslin over the sieve, to get a finer shrub. Pour 100ml of shrub into a bottle, seal, label and store in the fridge. Keeps in the fridge for up to 4 months.

Mix

In a shaker add the gin, blackberry & lavender shrub, lemon juice and ice. Shake for at least 1 minute. Strain into 2 tall tumbler glasses filled with ice and top with tonic water.

Garnish

Garnish with blackberries and a sprig of lavender.

Grab a bite

Get some grub in before or while you're drinking – it slows alcohol absorption.

Drinks Calculator
gin

lavender

caster sugar

tonic water

raw apple cider vinegar

blackberry

purple

purple cocktails

medium

gin cocktail

purple drink

gin and tonic