Chase Rhubarb Bramley Apple Thebar.Com 9967877 Frontimage
Chase Rhubarb & Bramley Apple Gin, 70cl
70cl  40%
Have it delivered on the day of the occasion.
Chase Rhubarb & Bramley Apple Gin
This tangy and tart gin is a perfect blend of fresh rhubarb, Bramley apple and juniper.
A must-try for gin lovers
Classic gin botanicals are distilled with flavours of tart rhubarb with tangy apples and hints of juniper to create Chase Rhubarb & Bramley Apple Gin, with a crisp, zingy flavour profile

All our spirits were originally made at the Chase Distillery in the Herefordshire countryside, with dedication & craftsmanship that lives on through our delightful range of distilled gins

NOSE
Fresh rhubarb and apple crumble with a hint of cinnamon.
Palate
Tangy rhubarb & bramley apple meets juniper.
FINISH
Tart fresh rhubarb and warming cinnamon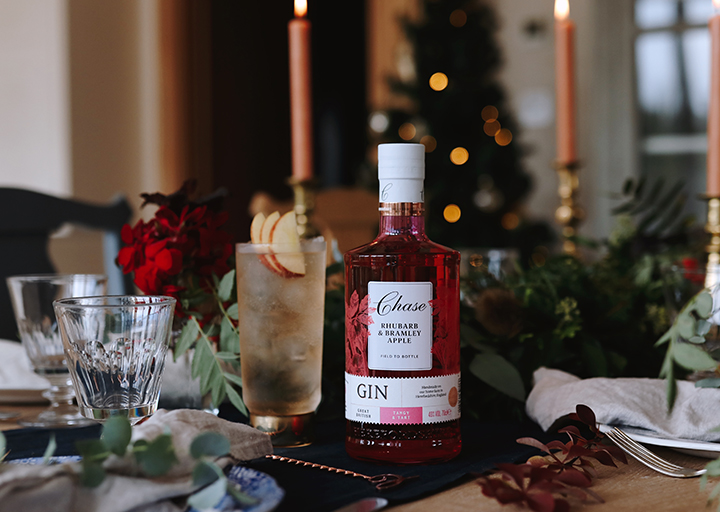 Great for gifting
Chase Rhubarb & Bramley Apple Gin's exciting & unique flavour makes it the ideal gift for gin enthusiasts.​
SIGNATURE SERVE
Rhubarb Gin & Tonic
Ingredients:
50ml Chase Rhubarb & Bramley Apple Gin
Tonic top
Method:
Pour 50ml of
Chase Rhubarb & Bramley Apple Gin
into a glass, add plenty of ice, and
mix with 150ml of premium tonic water. Add
a slice of fresh apple
and stir
Unit of alcohol per serve: 2
A bit of history
Chase Distillery is tucked away in the picturesque Herefordshire countryside. It's where our award-winning gins and vodkas were born and first produced.
Our Distillery is part of a rich landscape famed for its fertile farmland and distinctive red soil – so it's no wonder that some of the best-tasting crops are produced here. We're proud to say that it's from these Herefordshire farming roots that the Chase story began.
Award
Event: International Wines & Spirits Competition
Award: Bronze medal
Date: 2020