Chase Pink Grapefruit Thebar.Com Frontimage 9967862 1080X1080 (1)
Chase Pink Grapefruit & Pomelo Gin, 70cl
70cl 40%
Have it delivered on the day of the occasion.
Chase Pink Grapefruit & Pomelo Gin
A perfectly balanced gin
A must-try for gin lover
Classic gin botanicals are distilled with grapefruit peels to create a zippy and zesty gin, with flavours of fresh grapefruit, juniper, and lime combining for a truly delicious taste profile​
All our spirits were originally made at the Chase Distillery in the Herefordshire countryside, with dedication & craftsmanship that lives on through our delightful range of distilled gins
​​
NOSE
Powerful notes of pink grapefruit combined with subtle hints of juniper and lime zest.
Palate
Tart grapefruit meets juniper.
FINISH
Lasting sensation of fresh pink grapefruit.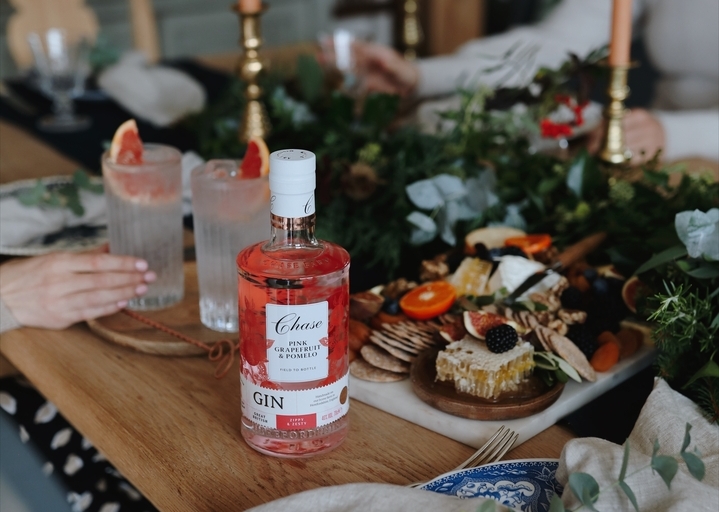 Great for gifting
Chase Pink Grapefruit & Pomelo Gin's exciting & unique flavour makes it the ideal gift for gin enthusiasts​
SIGNATURE SERVE
Pink Grapefruit G&T
Ingredients:
50ml Chase Pink Grapefruit & Pomelo Gin
Tonic water
Pink grapefruit
Method:
Pour 50ml of Chase
Pink Grapefruit & Pomelo Gin
into a glass, add plenty of ice, and mix
with 150ml of premium tonic water. Add a wedge of pink grapefruit to garnish and stir.
​
Unit of alcohol per serve: 2
A bit of history
Chase Distillery is tucked away in the picturesque Herefordshire countryside. It's where our award-winning gins and vodkas were born and first produced.
Our Distillery is part of a rich landscape famed for its fertile farmland and distinctive red soil – so it's no wonder that some of the best-tasting crops are produced here. We're proud to say that it's from these Herefordshire farming roots that the Chase story began.
Award
Event: Great Taste Awards
Award: Gold 1 Star
Date: 2017
Award
Event: San Francisco World Spirits Competition
Award: Gold
Date: 2021