Ketel One Vodka 70cl and Fever-Tree Soda 500ml plus Enamel Mug
An exceptionally smooth, super-premium vodka. Comes with Fever-Tree Mexican Lime Soda and Enamel Mug. Exclusive to The Bar.  1x 70cl Ketel One; 1x 500ml Fever-Tree Mexican Lime Soda; 1x Enamel Mug 40%
Have it delivered on the day of the occasion.
Ketel One Vodka
A pure, soft vodka with a crisp, lively tingle.
An exceptionally smooth vodka
Ketel One is a unique vodka made with carefully selected European wheat, and a combination of modern and traditional distilling techniques. This produces a vodka that's pure and soft with a crisp, lively tingle. This bundle comes with Fever-tree Mexican Lime Soda, made with Tahiti lime from Mexico's fertile groves that's perfect for mixing with premium vodka and a smart enamel Ketel One mug to drink it from.
AROMA
A fresh nose with hints of citrus and honey.
APPEARANCE
Crystal clear, which reminds you of its quality.
PALATE
A crisp taste with a lively tingle.
FINISH
Silky smooth and soft with a long finish of subtle flavours.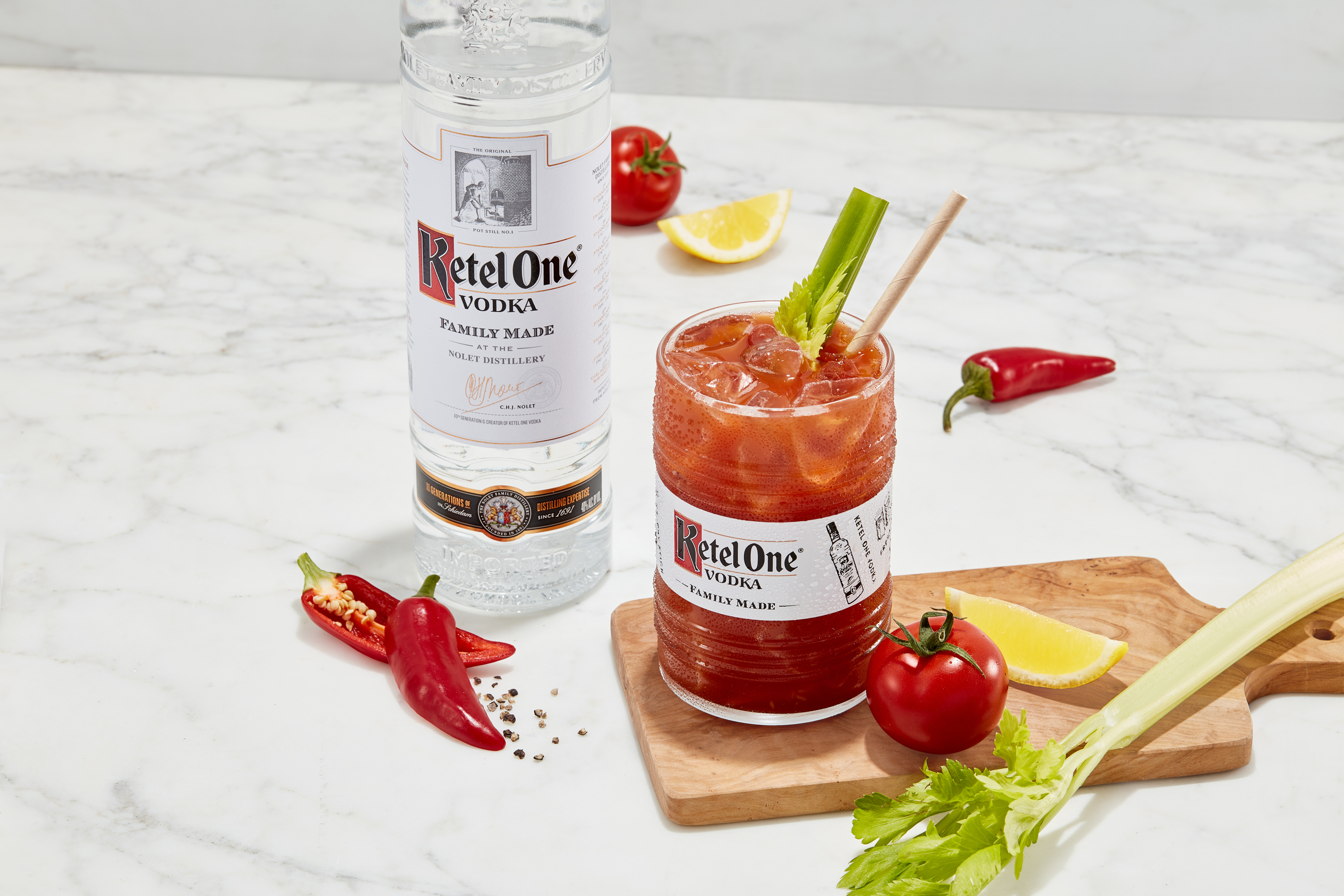 Your gift
This is an award-winning super-premium vodka. And exclusive to The Bar, it also comes with Fever-Tree Mexican Lime Soda, which makes a great mixer, and a stylish enamel mug. You can choose a gift card, which we can add a message to – if the gift is going direct to the recipient – or we can leave it blank, so you can write it yourself if the gift is being sent to you first.
SIGNATURE SERVE
Ketel One Bloody Mary
Ingredients: 35ml Ketel One Vodka, 100ml tomato juice, 20ml lemon juice, 1 teaspoon horseradish, 1 heaped teaspoon Worcestershire sauce, 1 pinch of black pepper, 1 pinch of rock salt. Glass: Highball. Method: Add all ingredients to the glass, stir well, add ice, garnish with a celery stick and lemon wedge. Alcohol units: 1.4
A bit of history
Ketel One is produced by the Nolet family who have more than 300 years of family tradition and distilling expertise. To this day, production is still overseen by the family, who personally taste and approve every batch before signing their name. That's how they guarantee Ketel One Vodka's signature crisp quality.
Interesting facts
Ketel One is distilled in ten copper pot stills, including the original 19th century coal-fired copper pot still. This must be hand stoked, sealed with wheat paste to prevent evaporation, and monitored every 20 minutes during the 8-hour process.
Awards
Awarded the No.1 choice of vodka by bartenders from the world's best bard. 2019 Drinks International.