5960854 Ciroc Bottle 70Cl Pineapple Front
CÎROC Pineapple Flavoured Vodka, 70 Cl
70cl 37.5% A smooth vodka with a light, citrus taste.
Have it delivered on the day of the occasion.
CÎROC Pineapple Flavoured Vodka
A tropical twist on a classic vodka.
A smooth citrussy-tasting vodka
CÎROC Pineapple Flavoured Vodka is infused with the delicate natural flavours of fresh, crushed pineapple, creating a smooth, mildly sweet tropical taste. One of the benefits is its versatility – it can be drunk neat, on the rocks, or used in a range of vodka cocktails.
AROMA
A gentle nose of pineapple and exotic tropical fruits.
APPEARANCE
Crystal clear after 5 times distillation.
PALATE
Crushed pineapple and notes of tropical fruit.
FINISH
Silky smooth finish.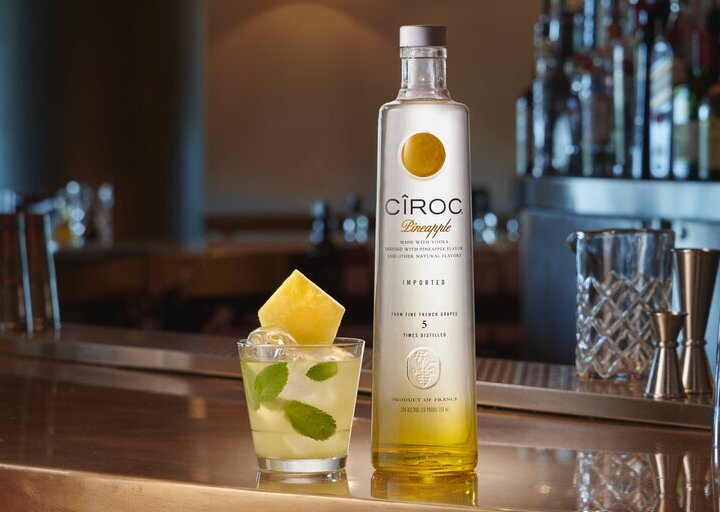 Your gift
Adventurous vodka fans will love this gift. It comes in a gift box and you can choose a card, which we can write for you – if the gift is going direct to the recipient. Or you can write it yourself if the gift is being sent to you first.
SIGNATURE SERVE
CÎROC Pineapple Mojito
Fruity and refreshing.
Ingredients: 45ml CÎROC Pineapple, muddled pineapple, 3-4 mint leaves, 20ml simple syrup, 30ml fresh lime juice.
Glass: Collins.
Method: Muddle some pineapple(bartender speak for crushing ingredients against the side of the glass) in the glass. Combine remaining ingredients in a shaker with ice. Shake well. Strain into a Collins glass, top with crushed ice.
Garnish with orange peel.
Alcohol units 1.4
A bit of history
CÎROC vodka is made from French Mauzac grapes rather than grain. The company was founded in France by Jean-Sébastien Robicquet, whose family has been in the wine business for 400 years before moving into spirits. The name 'CÎROC ' is a combination of the French word 'cime', meaning peak, and 'roche', meaning rock, a reference to the high-altitude vineyards of the Gaillac region where the Mauzac grapes are grown. Sean 'Puff Daddy' Combs has been a brand ambassador for CÎROC vodka since 2007.