Chase GB Thebar.Com Frontimage 9967854 1080X1080 (1)
Chase GB Gin, 70cl
70cl  40%
Have it delivered on the day of the occasion.
Chase GB Gin
This Great British Extra Dry gin is smooth & full-bodied, perfectly balanced with juniper, spice and citrus. A must-try for gin lovers
A must-try for gin lovers
GB Gin is crafted by copper pot distilling Chase Vodka with 10 botanicals; juniper, coriander seed, bitter almond, cinnamon bark, ginger, cloves, angelica root, liquorice root, lemon peel, and cardamom.
This handcrafted gin is distinct and full bodied in flavour, and bound to become a favourite in your gin collection.

All our spirits were originally made at the Chase Distillery in the Herefordshire countryside, with dedication & craftsmanship that lives on through our delightful range of distilled gins
NOSE
Fragrant, juniper, lemon & cinnamon
Palate
Smooth & Full-bodied, juniper and spice balanced with lemon peel freshness
FINISH
A long extra dry finish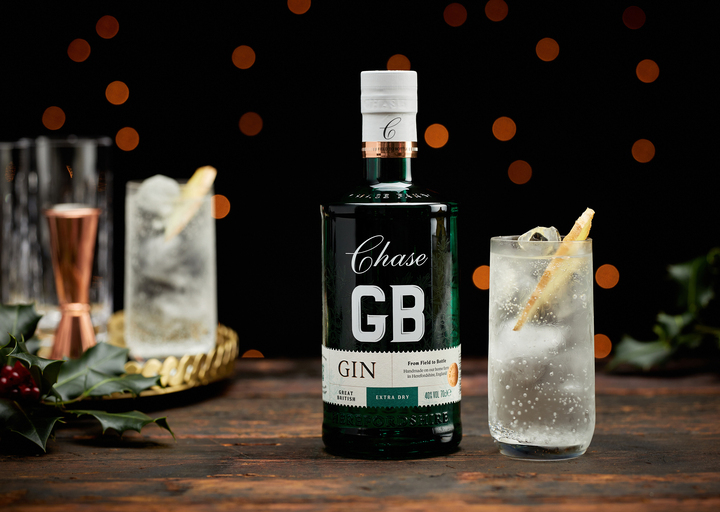 Great for gifting
Chase GB Gin's exciting & unique flavour makes it the ideal gift for gin enthusiasts​
SIGNATURE SERVE
GB & T
Ingredients:
50ml Chase GB Gin
Tonic water top
Method:
Simply combine ingredients over plenty of cubed ice. Stir gently and garnish with a slice of fresh ginger.
Unit of alcohol per serve: 2
A bit of history
Chase Distillery is tucked away in the picturesque Herefordshire countryside. It's where our award-winning gins and vodkas were born and first produced.
Our Distillery is part of a rich landscape famed for its fertile farmland and distinctive red soil – so it's no wonder that some of the best-tasting crops are produced here. We're proud to say that it's from these Herefordshire farming roots that the Chase story began.
Award
Event: San Francisco World Spirits Competition
Award: Silver medals
Date: 2017, 2018, 2021
Award
Event: International Wines & Spirits Competition
Award: Silver medal
Date: 2013, 2014