Cardhu Gold Reserve Single Malt Scotch Whisky 70cl
Cardhu Gold Reserve Single Malt Scotch Whisky, 70 Cl
70 cl  40%
Have it delivered on the day of the occasion.
Cardhu Gold Reserve
A smooth, beautifully structured and well-paced Speyside malt with a rich texture and a balance of sweet fruit, dark chocolate, toffee and spice
An exceptional taste experience
Rich and beautifully tasting Single Malt Scotch Whisky from the Cardhu family
Fairly dry with biscuity oak and a little cinnamon, plus toffee and apple notes
Serve in a large balloon glass neat or with a little water. Gold Reserve also offers up some new, fruity flavours when served with ice
Master Blender Matthew Crow has carefully selected casks to create a mouth-wateringly sweet, rich and mellow Single Malt whisky
One of the most distinctive, luxurious Scotch Whisky bottles in the world, perfect as a gift.
AROMA
Rich and mellow, with warm notes of baked apple and toffe
APPEARANCE
Delicate, mellow, golden sunshine
PALATE
 Initial sweetness cut by crisp orange zest followed by a subtle mineral dryness
FINISH
Tangy hints of menthol with velvety cocoa tannins and a grassy herbal not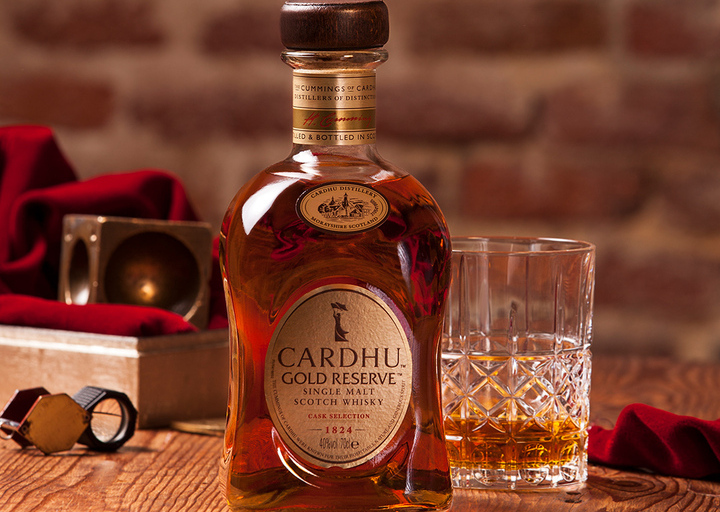 Your gift
Beautifully presented in luxurious gold packaging, making it the perfect gift for any whisky lover
SIGNATURE SERVE
Cardhu Gold Reserve Neat

Serve in a large balloon glass neat or with a little water. Gold Reserve also offers up some new, fruity flavours when served with ice.
Alcohol Unit: 1.0
A bit of history
The crafting of Cardhu Gold Reserve pays tribute to the generous nature of our founder Helen Cummings. Featuring hand-picked toasted oak casks to bring forward its notes of honey and sweet baked apple.
Though they take their name from the Gaelic for 'black rock', the malts of Cardhu have a warmth and cleanliness of taste, often described as silky, making them both elegant and approachable
Founded by Helen Cumming in 1811 as an illicit distillery and licensed in 1824, Cardhu is the first distillery to be officially pioneered by a woman. Helen's daughter-in-law, Elizabeth, became known as the 'Queen of the Whisky Trade' after cleverly exploiting the growing popularity of Scotch whisky in the late 1880s