Bulleit Bourbon & Enamel Mug (1)
Bulleit Bourbon Frontier Whiskey 70cl plus Enamel Mug
70cl  45% 1 x Enamel Mug
Have it delivered on the day of the occasion.
Bulleit Bourbon Frontier Whiskey
Small batch bourbon that is distinctly bold.
A bold and lightly spicy bourbon
With a name like Bulleit, you'd expect speed, but the makers of this weren't in any hurry. They've aged and mellowed it for over 10 years. The result is an absolutely sublime bourbon whiskey. Bulleit is distilled and bottled in Kentucky USA, the traditional home of bourbon. Unlike many other bourbons, it has a high rye recipe which gives a distinct, bold and lightly spicy flavour, with a smooth, clean finish.
AROMA
Smokey and woody on the nose with a hint of spice.
APPEARANCE
A pale, amber colour.
PALATE
Tones of maple, oak and nutmeg with a light toffee flavour.
FINISH
A distinctively clean and smooth finish.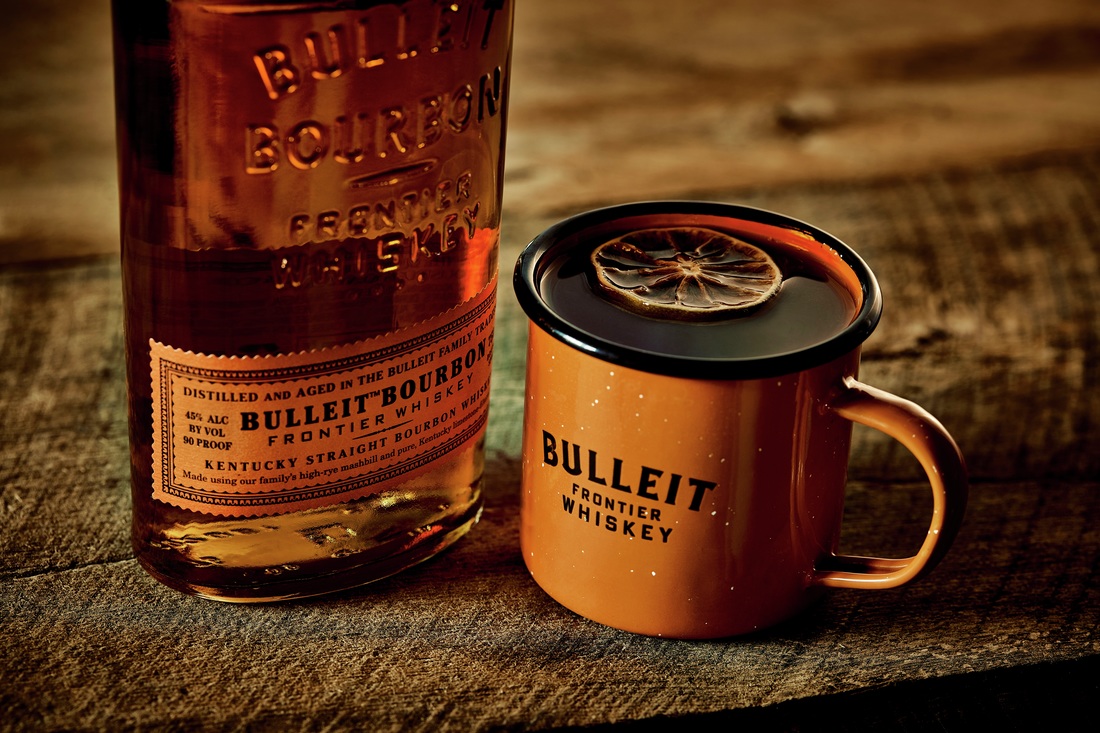 Your gift
You can choose a gift card, which we can add a message to – if the gift is going direct to the recipient –or we can leave it blank, so you can write yourself if the gift is being sent to you first.
SIGNATURE SERVE
Frontier Old Fashioned

Ingredients: 50ml Bulleit Bourbon, 10ml simple syrup, 4 dashes of Angostura Bitters, orange zest.
Method: Add two bar spoons of simple syrup, four dashes of bitters and Bulleit Bourbon to a large rocks glass. Add ice. Stir gently until the level of the ice and liquid equalize.
Zest an orange peel over the glass then add the peel to the drink as a garnish. How to make a simple syrup: 1 part sugar/ 1 part hot water. Stir to dissolve the sugar and let cool.
Alcohol units: 2.0
A bit of history
"A tavern keeper in 1830s Louisville, Kentucky, Augustus Bulleit had a single goal: the creation of a bourbon unique in flavour. After experimenting with countless varieties, he finally created a bourbon with the character he had long sought after. One day, while transporting his barrels of bourbon from Kentucky to New Orleans, Augustus Bulleit vanished. What happened is still unknown, and his creation disappeared for a while. In 1987, Thomas E. Bulleit Jr. fulfilled a lifelong dream of reviving the old family bourbon recipe, by starting the Bulleit Distilling Company.
Interesting facts

Bulleit Bourbon gets its bold, spicy character and smooth, clean finish from its high rye content. Water from the nearby Kentucky hills, filtered over limestone, provides the base for the bourbon's character and finally charred American oak barrels gives it a smoky backbone."
Awards
Event: San Francisco World Spirits Competition.
Date: 2012
Award: Gold Medal