Æcorn Aromatic Non Alcoholic Aperitif 50Cl Primary Image Award
Æcorn Aromatic Non-Alcoholic Aperitif, 50cl
Have it delivered on the day of the occasion.
Æcorn Aromatic
Æcorn Aromatic is aromatic & complex with notes of smoked cherrywood, vanilla, kola nut & chinotto.
An exceptional taste experience
Æcorn is made from 100% English grown Pinot Noir, Meunier and Chardonnay grape. These grapes are hand-picked when they change colour & are pressed within 12 hours. This grape base is wonderfully bright, tart & refreshing, with many of the same textural qualities as wine. It is carefully blended with acorns as well as other bitter botanicals to create our unique range of non-alcoholic aperitifs
Æcorn Aromatic it's rich, silky smooth, and has a warm finish from clove, cassia and oak.
AROMA
Full-bodied and indulgent with notes of smoked cherrywood, vanilla, kola nut & chinotto.
APPEARANCE
Rich tawny in colour with a sweetly aromatic, smoky nose
FINISH
Subtle notes of chocolate, raison and oak wood.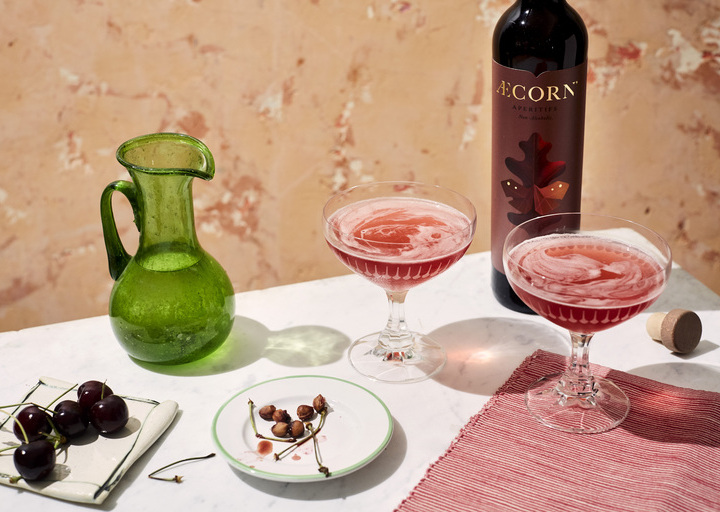 So, what exactly is an Aperitif?
Great food deserved great drinks. When enjoyed together, they help to bring us closer by connecting us more deeply with new friends & old. Wherever you are, at home or in the bar, the enjoyment of a delicious aperitif sparks connection & great conversation.

There are many different types of aperitifs & many of them are herbal, botanically rich & crucially, bitter. It's these bitter flavours that send signals to the digestive system, awakening the appetite & preparing the body for a meal. Meaning 'to open', aperitifs come in many guises & traditionally contained alcohol. Until now.

With the array of incredible ingredients available to us today, we believe that a great tasting aperitif doesn't need to contain any alcohol. Like traditional aperitifs, Æcorn uses many bitter ingredients & botanicals to create delicious complexity, all alcohol-free.

Long evenings with friends around a dinner table. Nights in with a 12" pizza, the one you love & a movie. A Spritz in the park after work. The perfect non-alcoholic dinner drink for your special occasions.
SIGNATURE SERVE
COSNO
INGREDIENTS
25ml Æcorn Aromatic
25ml Cranberry Juice
15ml Lime Juice
GLASS & GARNISH
Coupette
Orange zest
METHOD
Shake & strain
The Process
Blended and bottled in England, Æcorn Aperitifs are based on English Sparkling wine grapes and designed to complement any occasion where food and friends are present. Æcorn is made from 100% English grown Pinot Noir, Meunier, and Chardonnay grapes, pressed early, and blended with appetite-stimulating herbs, roots, and bitter botanicals. The result is the world's first range of bold and bitter non-alcoholic drinks designed to enhance food, without alcohol